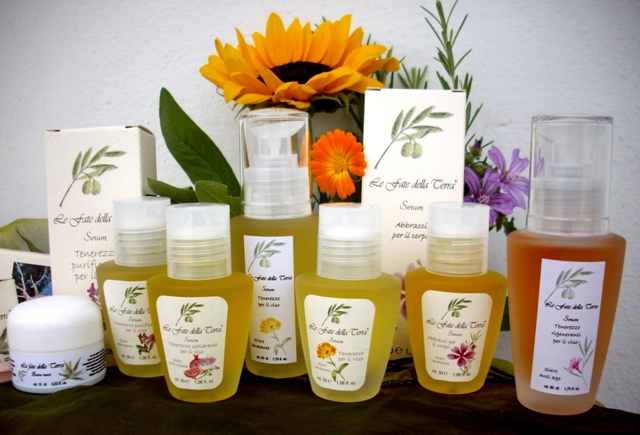 From the olive groves of our company on the hills of the Sannio Beneventano, for years we produce an exellent Extra Virgin olive Oil, certified organic.
And our Organic Oil is a critical foundation of Biocosmeticis "Le Fate della Terra".
In fact  the Virgin Olive Oil, for its lipid composition similar to the sebum of the skin, and for the presence of valuable antioxidants such as vitamin E, helps to prevent and fight cellular aging.
Taking advantage of to the cooperation and professionalism of a well-known certified Natural Cosmetics Laboratory, we have developed specific and innovative formulations, where our Virgin olive oil, and its synergy with other plants and herbs of high-quality, guarantee in Biocosmetics " Le Fate della Terra" an effective response to the needs of hydration, firmness and cell regeneration of skin young and mature, providing the right amount of nourishment and protection.
The Biocosmetics "Le Fate della Terra":

Do not contain water, no dyes or chemical preservatives.
Ingredients used in manufacture for more than 97% are from natural growt or organic farming , with low environment impact, the reminder is of natural origin.
They are tested hypoallergenic, not on animals.
The containers are made of glass and cardboard of the packaging comes from recycled paper.
Olivo Sannita S.A.S.
Via Francesco Grimaldi, 141
00146 Roma_______________________________

Tel. +39 065593678
Cell. 347 7754172
e-mail lefatedellaterra[at]libero.it